Betty's Not a Vitamin
Written by: Christopher Tocco, Todd Staudinger, Scott Staudinger, Mel Tillis (Ruby, Don't Take Your Love to Town)
Available on iTunes
– BNAV's original sound is a mix of all classic American music – Pop, Country, Rock, Punk and Rockabilly – served with the feel of a Memphis barbecue.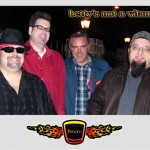 BNAV tackles styles ranging from Power Pop, Rock and Acoustic, to Rockabilly and Surfer Rock. They've done all of this without losing touch with their very distinctive sound. A tight rhythm section, distinctive lead vocals, tons of guitars, all topped off with killer harmonies. It's fresh, classic American music at its best.
** On this CD I perform the bass guitar and some backup vocals on the tracks Sweet Pain, Landscape, Jesus Nixon and Elvis, Saturn Song, Broken Day and SeventyNine.
This CD was engineered and produced by the late GREAT Greg Marchak.
On the tracks I named the lineup of the band was:
Chris Tocco – Lead Vocals
Todd Staudinger – Guitar
Rob Kosinski – Bass
Rick Boucher – Drums
Images:
Music: