Acoustic Entertainment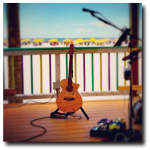 At a Rob K show you can expect to hear a variety of songs by popular artists like Tom Petty, Dave Matthews, Bon Jovi, John Mayer, the Beatles, Vertical Horizon, Lionel Richie, James Taylor, and Pearl Jam, just to name a few… but my more eclectic selections are where I shine.
My always expanding repertoire features songs from the 60s through today and with a wide variety of songs, there's always a crowd pleaser coming up!
I'm dependable, professional, and committed to delivering the show that's just right for you and your guests. Special song requests prior to the performance are welcomed time permitting.

Visit my official YouTube Channel for more videos!